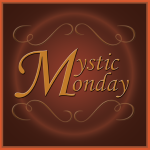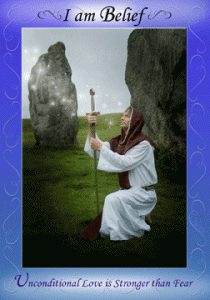 Card for the week of November 9th, 2015

I am Belief
"Unconditional Love is Stronger than Fear"
This is the time to dream big and to believe that anything is possible.
The light and love within you is the energy source that propels you towards ultimate success.
Faith is what conquers doubt and fear.
Your belief builds your faith.
Suggested Practice
Be true to yourself and know the truth behind the reason for the power of your belief structure. Know that your thoughts, words and deeds are the key to all manner of wondrous potential.
Allow your beliefs to shine. Lead others by example.  (from Mystic Bliss, A Gentle Reminder and Guidebook)
---
Insights
This wonderful card came up recently in a monthly reading for The Mystic Muse as well. The repeated showing of this card does not surprise me as it seems there is a strong shift in the collective consciousness around the power of belief.
Part of the reason for the growing awareness and understanding around belief, in my opinion, is the ripple effect that was put into motion recently when a wonderful teacher, Dr Wayne Dyer, passed. Since his transition, I have been seeing his words of inspiration and his name everywhere. People, who were not aware of his powerful work until now are being exposed to the light that he was. He believed in the ability of each of us to transform our thoughts and create a much better vibration in which to exist in. His teaching has been part of my journey and a very profound way. I am grateful for his guidance that has allowed me to follow my path and grow towards my destiny through his example.
This card invites you to understand that at the core of who you are are the beliefs that you hold about yourself and what you are capable of. When you allow yourself to align your thoughts with the limitless source that you are connected to, you have the capacity to conquer your fears and doubts. Your ability, and willingness, to listen to the inner guide that resides at your core can ignite your confidence and create unlimited potential in your life.
Yes we are speaking about faith here to a certain extent however belief, as I have come to understand it, goes even deeper than faith. In essence, I am Belief is a mantra that has the ability to raise your vibration and put you on a path towards action. All success and change is born in faith and belief however it is action that propels the thought into being.
Hold tight to your positive beliefs while moving through the maze of options and crossroads in life and you will always find yourself just where you need to be.
Be Light and shine,
Colette
NOTE ~ The format for Mystic Mondays has changed from a multi card reading to a more simple and pointed message of one card. The multiple card readings can now be found in The Mystic Muse monthly newsletter. The single card posts each Monday will feature an excerpt from the Mystic Bliss, A Gentle Reminder guidebook as well as a small elaboration on it specifically for that week.