Discover and demystify the secrets that lie just beyond logic and calls the collective consciousness home.
Connect to your higher self: The real you that is unlimited and eternal and the part of you that inspires and guides your intuition by teaching you through insights.
Expand your control over your thoughts and strengthen your inner guru.
The Oracle deck reinvented for a new generation
These cards assist you to stay open and listen to your deeper connection and dissolve any remaining barriers between you and Source information providing instant shifts
Individuals, counselors, coaches, and alike guides will find these cards, inspired by the deep symbolism of the Tarot and influenced by the elevating energy of Oracle-style decks,  to be thought-provoking and easy to use.
Real People in Real settings
Photography based, the images in the Mystic series are hyper-realistic and each card is infused with the personalities and attributes of the subjects featured in each card.  is part of the vibration and energy of the decks.  Natural environment and the elements therein also contribute to the power of each evocative image providing a deeper connection with Source energy.
Through the creative process, my intention has been to generate positivity and growth by providing a gentle guide back to an awareness of self-worth whether you are using the cards singly or in a multi-card pull. Use the traditions that you are already familiar with, or trust your intuition to guide you as you begin to use these cards.
Although not specific to this use, individuals with the skills to do so find these powerful cards also useful for divination and predictive readings.  As with any tool, it simply depends on your personal intention and knowledge.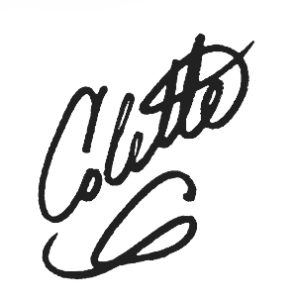 Well worth receiving a personal message each month! It's been several months now that I receive a message and it has been a support and a confirmation of the things happening in my life, and what is more, these messages are surprisingly (well, perhaps not really surprising when you consider the intuitive you have Colette!) consistent as you discover a pattern in them month after month. It's come to this: each month around the 15th I am eagerly watching my mail to receive a personal message, and the one I got this month is again spot on, I just love it.
Danny Dewulf
Mystic Bliss
The Change and Transformation
Deck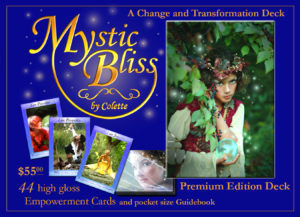 Inspired by a passion for folklore and stories of the faerie realm as well as mythology, I have created a collection I call Mystic Bliss Empowerment Cards which I believe is filled with evocative images and gentle reminders to live life fully aware of the beauty around, and within, each of us.
Mystic Journey
The Healing and Nurturing
Deck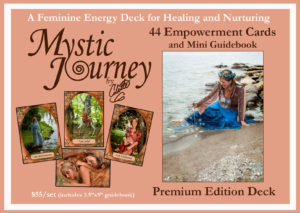 Mystic Men of Magic
The Action and Awareness
Deck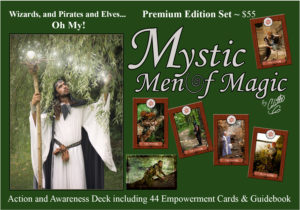 The Men of Magic cards are multi-layered. They incorporate different archetypal characteristics, as well as the energy of the four main compass points.
This guidebook is a valuable tool for you in this regard, as it explains the energy of the deck and what the theme of it is from the perspective of the creator.
Have you forgotten who you are?
Mystic by Colette offers a variety of tools and services that can act as an amplifier to the gentle whispers that are your inner knowing to help guide you back to your true self. Colette's writing and mystical images are engaging and informative. Here you will find Mystic Empowerment Cards, be able to book card readings by Colette and learn about her commissioned intuitive portraits.