Mystic Magic
 From Concept to Completion  
What makes the Mystic series so unique is the depth of the work each card represents from the perspective of the artist hand present on all levels. From the conceptual process of the themes and elements in each deck, as well as each individual card, to the final details of the cover design and graphics for the series, Colette has created Mystic from her heart and inspiration.
Read more below about how the costumes were made, what inspired some of the writing, tidbits on how some of the models came to cross her path, Fun Facts about a few of the photography sessions and aspects of her personal journey this project influenced.
Handmade Costumes for Each Card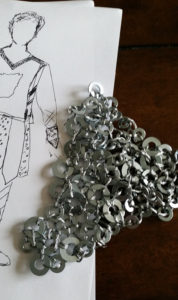 Whether made from scratch or upcycled from thrift store finds, Colette designs and creates the costumes for the Mystic projects by hand mostly by herself and at times with the help of friends or the models themselves. Her inspiration comes from books and movies at times however most of the time the look of each card is inspired by the person she has selected to feature on the card.
A favorite story about someone who inspired a costume, in fact, several costumes, was the time she was sitting in a cafe having lunch when a young man walked past her table and caught her eye.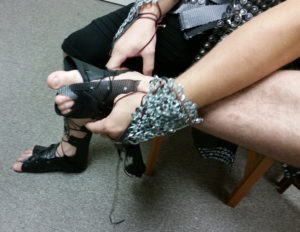 What was intriguing about him was the grace of his movements which included a slight swagger, like someone who had spent time on a fishing boat, and his dusky look. Instantly the concept of a pirate came up in spite of the fact that, up until that time, Mystic featured mostly faeries and elves. The young man was eventually approached and the conversation that ensued inspired 3 very different sessions for Mystic in the short time he was visiting the area from the Canary Islands.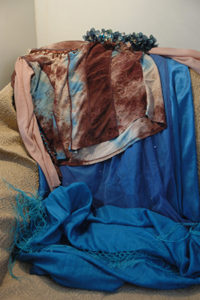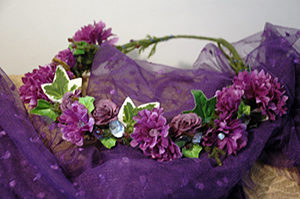 The most fantastic part about this story was the spontaneous visit to the fabric shop and thrift stores together and finding the fabrics needed to create the envisioned looks almost without effort. One of the 3 costumes was inspired directly from a fabric they spotted and how earthy it looked and felt. Having a creative soul himself he quickly caught on and agreed to the third concept for him. Colette still calls this young man one of her original muses for the project due to his openness, enthusiasm and utter confidence that what she was creating was something magical.
Sometimes the costume pieces are refurbished and reused in different sessions but mainly each costume and its accessories is designed and made for the specific intent of a particular card.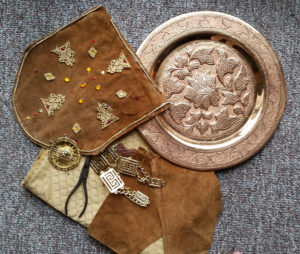 Makeup!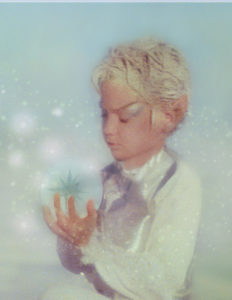 When Mystic first began the project was nothing like what it is today. If anything I can admit that I did not even intend for it to be more than a style of photography I could offer my studio clients. Early on, I did use friends who had makeup training to get me started but eventually doing my own makeup made more sense for time and convenience on many levels.
The Bliss series of images has more makeup than the following two decks as I was doing heavier fantasy themes in my images at that time. Prosthetic ears for faeries and elves accentuated cheekbones and dramatic eyes and even horns became my recognizable style.
My favorite story about those early years of Mystic image capture is when my wonderful son Joey expressed his frustration about having to wash his hair 3 times to get all the white paint out. Horrors of horrors when you are an 8-year-old boy, I mean cruel mom causing him to have to bathe that often.
Pen to Paper
Journaling is where Mystic was born. That practice itself was instilled in me years ago with doing the work in an incredible book called The Artist's Way by Julia Cameron.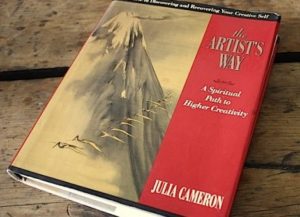 Mystic photoshoots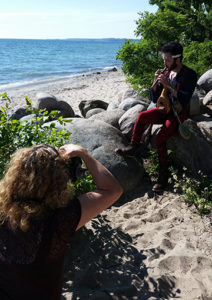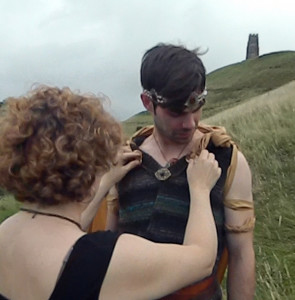 Handmade Decks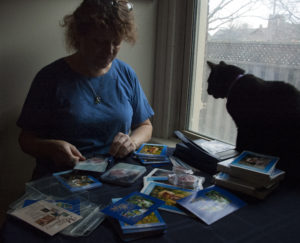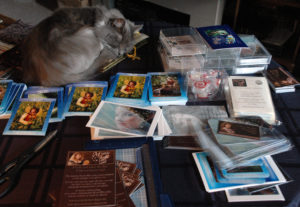 A Special Thank You
So many things had to fall into place before this deck could be fully realized. It has taken years and the encouragement of so many amazing people. It is however impossible to thank everyone personally. I wish to acknowledge those special souls without whom, and their loving support, this work would never have come to fruition.
First, I would like to thank my children, Theresa and Joey, for never questioning my obsession over the years to continue this work in spite of time constraints and other challenges. They saw me through many evolutions of this work, generally known in our family as just "Mystic", and also hold the honour of having inspired some of my favorite works over the years.
Second, my mother. Her faith in me and all of my potential has been a guiding light my whole life. My love for her and all my family knows no limits.
Third, I would like to acknowledge all my models because it was something in each of them that inspired the themes of the cards as this part of the project grew. What I saw in them allowed me to develop my imagery and messages with unbridled creativity that would otherwise have been impossible.
Finally, this thank you note would be incomplete if I failed to mention my steadfast supporters who carried my evolving collection in their stores; took me to sacred places to tap into the inspiration of the land; acted as sounding boards; and never gave up on me or my vision. A couple of these have already been acknowledged and there are simply too many others to list here yet I must make special mention of the following people: Angela, Dane, Danny, Lorinda, Kate, Matt, and The Wildmans.
You are all a blessing to me. Thank you