Description
~A Feminine Energy Deck for healing and nurturing
Before being empowered there may be a need to heal old patterns and nurture aspects of yourself that have been neglected.
The Mystic Journey deck is a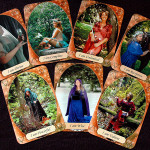 reflection of the divine feminine through the 4 suits: Maiden, Warrior, Mother, and Crone which are paired up with the 4 elements of Air, Fire, Water, and Earth and include a mini guidebook.
This is second deck in the Mystic Empowerment Card series completed by Colette and is a reflection of the journey she experienced during her own experiences.

Premium Edition Decks are now available to order. $65.00 (plus shipping)
The Mystic Journey package includes:
one 44 card deck printed and handmade on premium photo printing paper.
one 55 page companion booklet.